817 Pacific Avenue
Bremerton, WA 98337
United States of America
Company Established In
2003
CATEGORIES & HEADINGSdetails >>
A planetarium helps students grasp abstract astronomy concepts and can spark enjoyment and interest in science.

Our Digitarium digital planetarium systems stand out in price and performance, putting a full-featured planetarium within reach. With over 630 systems in use around the globe, Digitalis is the leading provider worldwide of digital planetarium systems.

We offer Digitarium systems in a variety of resolutions and price points, for fixed or portable domes up to approximately 60 ft/18m in diameter. We also manufacture and sell inflatable domes in several diameters, for a complete portable solution.

Live, scripted, or full dome video shows are all easy with Digitarium systems!
Product Showcase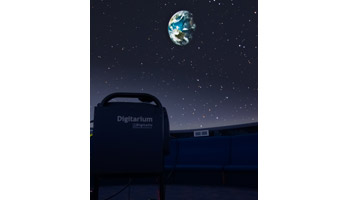 A planetarium helps students grasp abstract astronomical concepts and can spark enjoyment and interest in science. Digitarium digital planetarium systems stand out in price and performance, putting a full-featured planetarium within reach. They offer the best usability on the market, thanks to our unique handheld, backlit remote control interface and new web-based Universal Console interface.

Digitarium models are available in either a portable or a fixed configuration, at different resolutions and price points. We also sell our own line of Digitalis inflatable domes in several sizes for a complete portable solution.

One person can set up a portable Digitarium system and a Digitalis inflatable dome in about 10 minutes. Portability and ease of set up and use allow you to share one system and its cost with other area groups, even across an entire school district.

Digitarium systems offer advanced features to excite and engage your students. Zoom in on and label any object; demonstrate annual motion; display constellations from many cultures; project your own content on any subject; play prerecorded fulldome movies; and much more. The system's vast capabilities make it relevant for audiences of all ages.

Digital technology makes these systems significantly more powerful than analog ("pinhole") portable planetariums you may be familiar with. Think of the power of a computer versus a slide projector.

Affordable, easy to use, and flexible, a Digitarium digital planetarium system will revolutionize your astronomy teaching. read more